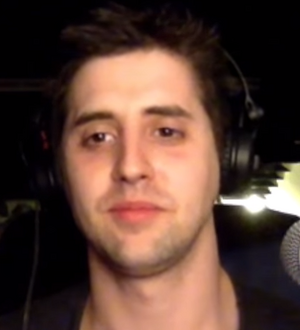 Damian Lindsy Benedict (born circa 1990) is Georg's highschool friend and co-host for both the Boisterous Bros. and the Georg Rockall-Schmidt Show. He was raised in Britain and lives with his girlfriend in an apartment somewhere in said country.
Description and Life
Edit
Called Shripwreck in Secondary school, due to him once sitting in a semi-shiplike formation of staircases and railing, Damian is Georg's close friend from his Secondary school - though not the first he attended. From what we hear on the Georg Rockall-Schmidt show, the two have been drinking buddies and roommates in the past and have been close for at least half their lives.
Another of Damian's nicknames is Bendy Dick, a play on his last name Benedict.
Damian - just as Georg - appears to have a down to Earth and somewhat cynical appreciation for the world and people in general, having no care for stupid people or bullshit, and has shown a disdain for school.
He has worked as a chef, and - according to a throwaway line in a podcast episode - has cooked for Michael Caine and Buzz Aldrin, though, this was likely a joke.
He is also an artist who has worked as a freelance illustrator. He is likely the creator of the channel art and profile picture on Georg's channel.
Appearances
Edit
Voice of Simon Pooter in Diary of a Hipster Episodes 1-9 (Series End)
Edit
Co-Hosted Boisterous Bros. Episodes 1-19 (Series End)
Edit
Co-Host of The Georg Rockall-Schmidt Show Episodes 1-Present
Edit